Did you know that 16% of motor failures are due to external factors?
Here are the reasons why:
1. Motor operating temperature
The industry standard for LV motor insulation systems is class F, with a limit on temperature rise of class B.
Other insulation systems offering higher levels of protection are available.
Tips:
Ensure that the cooling systems of the motor are suitably maintained.
Broken fans, clogged vents and blocked or damaged cooling fans can cause excessive heat build-up.
Check motor cooling regularly.
2. Humidity & Environment
Electricity and water are a bad mix; high humidity can allow moisture to enter the motor and cause damage and corrosion.
This can be combatted by: Opening drain hole plugs: fitting ant-condensation heaters; utilising addition corrosion protection; enhanced paint systems
Tips:
Where motors are operating in harsh outdoor conditions, consider the effects of cold as well as heat.
Condensation heaters should be fitted to motors used outdoor in cold winter months to minimise condensation within the motor.
FAQ:
What do I do if I can't seal completely against moisture ingress?
Ensure that breather plugs are fitted and are kept clear – this will ensure any moisture that does enter can drain away.
3. Contamination
Ingress of foreign particles into the motor enclosure can cause damage – particularly to a motor's bearings or windings. Use the correct IP ratings to protect your motor.
Motor IP ratings explained: 3.5 Degrees of protection: IP code/IK code
Classifications of the degrees of protection provided by enclosures of rotating machines are based on:
IEC / EN 60034-5 or IEC / EN 60529 for IP code
EN 50102 for IK code
IP protection: Protection of persons against getting in contact with (or approaching) live parts and against contact with moving parts inside the enclosure. Also protection of the machine against the ingress of solid foreign objects. Protection of machines against the harmful effects of the ingress of water.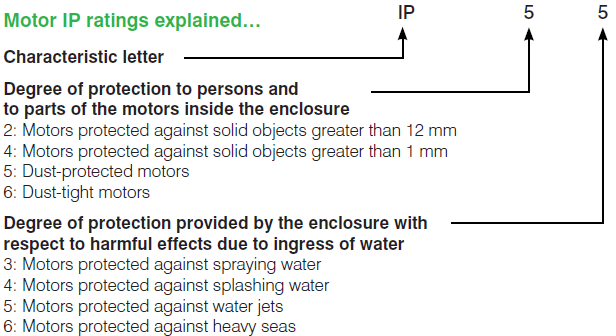 Tips – other basic measures to protect your motors against ingress are:
Labyrinth seals
Radial seals
Using IP56 or IP65 rated motors
FAQ:
What about protection against mechanical impacts?
IK codes outline the degree of protection of a motor against external mechanical impact.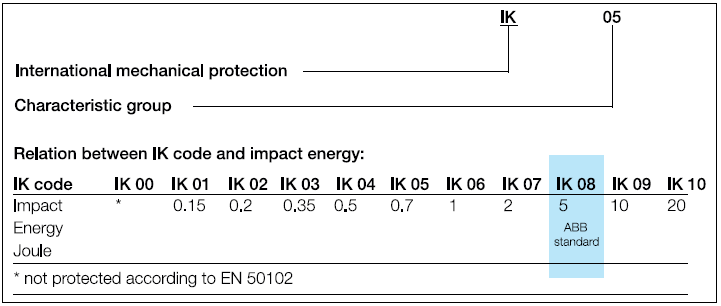 4. Ambient temperatures
Ensure motors are rated for the ambient condition in which they operate.
Derating is often necessary for high ambient temperatures whilst low ambients may require special materials.
Check your motor is suited to its operating environment.
Tips:
Basic motors are designed for operation in a maximum ambient temperature environment of 40º C and at a maximum altitude of 1000 meters above sea level.
If a motor is to be operated in higher ambient temperatures, it should normally be derated, as a guide use the table below.