ABB Softstarts

A Softstarter allows reduced inrush current on starting 3-phase motors, reducing the energy costs relating to the starting of your motors.
Our engineers can commission and install a suitable ABB Softstarter anywhere in UK .
Expert assistance for emergency breakdowns – call us on 0330 9000 247
Want to know the differences between using a Softstarter and a Variable Speed Drive?
Just fill in your details below and receive your FREE white paper via email NOW!
Free Soft Start Guide Form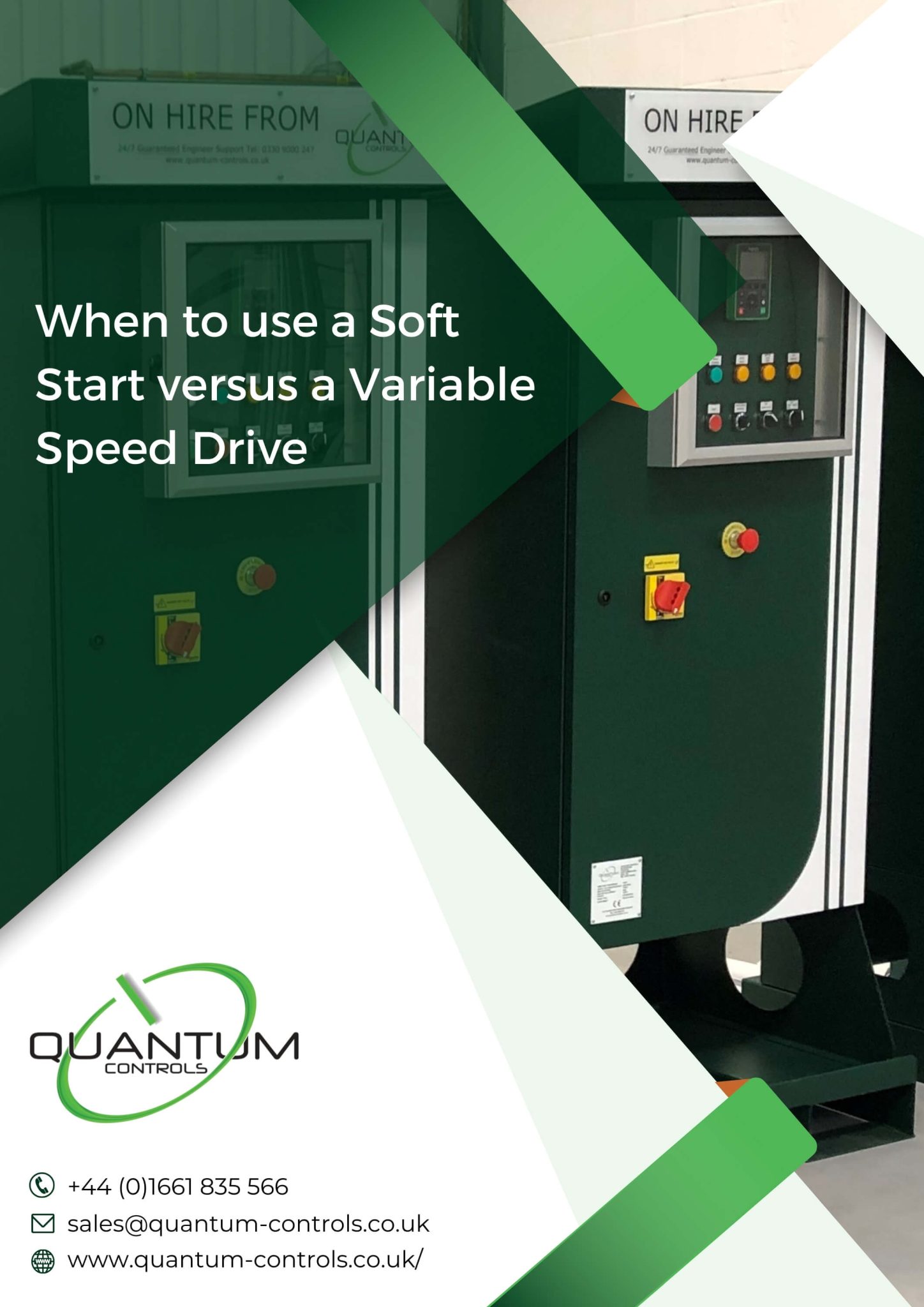 Want to know the difference between a Softstarter and a VSD? Get our FREE guide now!
Purchase one of our ABB Soft starters
Why use a Softstarter?
By reducing inrush currents and limiting torque, softstarters protect your equipment, extend the life of your motor, and reduce motor heating. During start-up, softstarters provide gentle acceleration up to full speed, saving energy and reducing emissions.
Why purchase through Quantum?
As a drives and motors specialist our specialist teams are here to help you from the purchase of your softstarter to it's maintenance after install. We also have:
Comes directly from ABB UK
Competitive pricing
Live access to stock
Immediate dispatch
UK Stock
Short lead times
Specialist engineers available to commission, install and maintain
Types of Softstarters
We provide 3 ranges of ABB Softstarters, to cover your needs, secure motor reliability and longevity. The range includes;
PSR Softstarter
PSR softstarters allow for the design of compact starting equipment, as they are the smallest of all softstarters. Combined with a manual motor starter, the PSR is far more compact than the star-delta starter, and thanks to a built-in bypass, there are fewer energy losses inside the softstarter.  This range includes a manual motor starter, (optional) connection kit, output signal relays, LED indicators, three potentiometres for settings and it can be screw or din-rail mounted.  Our softstarters range from 1.5-55kW power rating.
Typical applications include:
Bow thruster
Centrifugal pump
Compressor
Conveyor belt (short)
Elevator
PSE Softstarter
PSE specialises in pump operation in addition to meeting most water industry requirements. Compact design with built-in bypass combines the requested protections. Remote operation can be achieved with an external keypad or over a fieldbus.  This range includes a screw mounting. digital input for start, stop and reset and output signal replays for run, top ramp and event. Our softstarters range from 7.5-200kW power rating.
Typical applications include:
Bow thruster
Centrifugal pump
Compressor
Conveyorbelt (short)
Elevator
Escalator
PSTX
Research and development of the PSTX are combined with knowledge of application-specific requirements and needs. New features and improved reliability are added with this latest ABB motor control & protection advancement.  This range has a three-phase control, an operational voltage between 208-690 VAC, a wide rated control supply voltage, PSTX rated operational current, in-line and inside-delta connection, coated circuit boards for protection, detachable keyboard IP66, graphical display, built-in bypass and modbus RTY, support for all major communication protocols and an analog output for measurement of current, voltage and power.  Our softstarters range from 15-710kW power rating.
Typical applications include:
Bow thruster
Centrifugal pump
Compressor
Conveyor belt (short)
Elevator
What's next?
All of our softstarters are available with a range of accessories.  To find out more or place an order email our sales team at [email protected] or call +44 (0)1661 897332
What Our Customers Say
Great over the phone help with issues and immediate engineer to site response - great service.
I spoke with Amy Finn who dealt with the break down support. She was superb. Understood my requirements and kept me updated throughout the process. The engineer resolved the problem promptly, also spares were made available if the problem was bigger than expected to mitigate any risk of having to wait for parts.
Great service from Billy, Brandon and Liam. They worked quickly and efficiently into the early hours to get our 800KW hire drive up and running. They also removed our damaged drives and took them away for repair. Got our plant producing saving us massive costs due to lost production. The engineers worked safely and calmly during a highly pressured period. Great work done by your guys!
Thanks to Amy and Sam for their assistance last week. It's always really appreciated to know Quantum are at the end of a phone when we need you all to get us back up and running.
Enquire here
Fill in the enquiry form for a no obligation quotation.
Or call us on 01661 835 566
In case of emergency call us on 0330 9000 247